About Us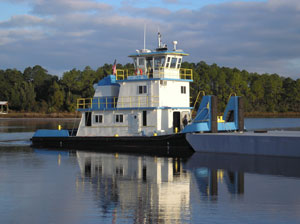 Welcome to the Marine Inland Fabricators official website. Feel free to browse and see all the services Marine Inland Fabricators has to offer. Contact Marine Inland Fabricators for all your Marine Industry needs!
Located on five acres of industrial property, and employing the latest techniques in steel construction, Marine Inland Fabricators designs and constructs semi-custom and custom vessels for marine industries.

With our yard on the Intercoastal Waterway, near the Gulf and East Coast Inter-state highway systems, Marine Inland Fabricators is centrally located and ideally situated to deliver quality vessels to customers across the North American Continent. And by our proximity to Gulf Coast shipping terminals, we ship vessels to as diverse locations as South America, West Africa, and South-East Asia. Click Here to see where we are located.
Marine Inland has a New Look! Marine Inland knows the importance of keeping up the pace with the ever changing world. Marine Inland strives to be the best at offering Push Boats, Barges, Towboats, Hopper Barges, Deck Barges, Sectional Barges and Ferry Barges! Check this list of vendors here.