U.S. Army Corp of Engineers, Portland, Hull 311
Delivered March 2017 – Rufus, OR  "STALLION" Model Push Boat, 25′-3″x12′x5′. Elevated Pilot House, Twin John Deere 6068 Diesel Engines @300 HP each, ZF 305 Gears, Four Flanking Rudders and Two Main Rudders, 350 Gallon Fuel Capacity, 9′ Push Knees, Forward and Aft Tow Bitts, Two Transverse Watertight Bulkheads with Hatch Access, Twin 5 Ton Deck Winches, Deck Handrails, Portable Fire Pump, B-V Fire Extinguisher, Four Bilge Pumps, Certified Fire Detection/Alarm System, VHF Radio, Depth Sounder, RAI's, "Stump Jumper" Rudder and Propeller Protection,  Zinc Anodes and Anti-Foul Bottom Paint.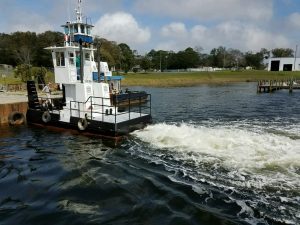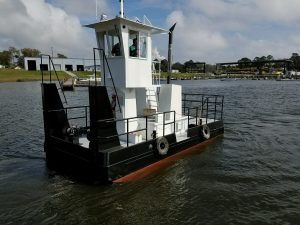 This entry was Projected in
Recent Projects
. Bookmark the
permalink
.