Paducah Barge, Hull 306
Delivered January 2017 – Chattanooga, TN   DREDGE TENDER, 25′-3″x14′x5′. Twin John Deere 6068 Diesel Engines @300 HP each, ZF 305 Gears, 350 Gallon Fuel Capacity, 9′ Push Knees(extensions not shown in picture), Twin 5 Ton Nabrico Deck Winches, Rudder Angle Indicators, 19′-6″ Eye-Level View from Hinged Pilot House, and VHF Radio Installed.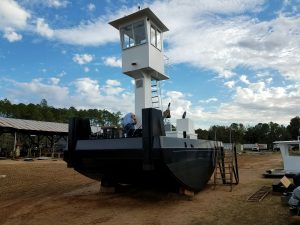 This entry was Projected in
Recent Projects
. Bookmark the
permalink
.