Marine Contracting Group, Hull 296
Delivered April 2016 – Punta Gorda, FL  "STALLION" Model Push Boat, 25′-3″x12′x5′, Single John Deere 6068 Diesel Engine @ 300 HP, ZF-305 Marine Gear, One Main Rudder and Two Flanking Rudders, Twin 2 Ton Nabrico Deck Winches, 250 Gallon Fuel Capacity and Anti-Foul Bottom Paint.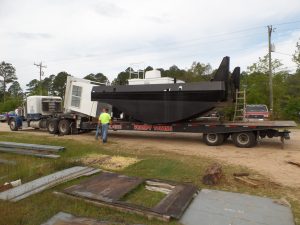 This entry was Projected in
Recent Projects
. Bookmark the
permalink
.